A Name You Can Count On
Patty Cummings, inventor, creator of Astro-Durance Bungee Systems & Bungee Workout. We are the original name in Bungee Fitness. We take pride in our product that Patty Cummings developed in 2016 which went world wide in 2017. Patty has continued on upgrading and redefining quality in the industry with her manufacturing partners on AD Bungee Workout Equipment. By professional training and top-notch equipment, we can lead others to success. Our mission is to provide gyms and studios around the world with quality training and the best equipment.
Why Go With Astro-Durance Training?
Astro-Durance Bungee training includes basic, intermediate, advanced bungee movements and an overview of how to work with physical limitations. You will learn the major physical properties of Astro-Durance and its impact on your cardio, lymph (circulatory system), muscular forces, strength, endurance, core, weight loss, flexibility, and balance.
Learn how to do a proper physical assessment on your client with a hands-on, step-by-step walk-through. Client Health History Form and what you need to do and know before you EVER put the client on the bungee.
The One-day workshop includes class time and hands-on education covering the Basic Bungee Movement. As well as step by step "how-to" assess client fitness level, get their bungee on and perform one on one.
The AD Workshop certification is for the Astro-Durance Bungee system ONLY.
Do you want to add AD Bungee Fitness to your gym, studio, camp, resort, or medical facility, we can help. You will need to know the do's and don'ts to use it properly; physical assessment of the client; how it affects the body, the limitations of the product; protocols; Procedures; urgency, and safety factors.
Our Bungee Philosophy
The four basic tenets of a successful business are having a great product or service, a viable concept, enthusiastic competent people, and a good location. Two or more out of four can prove successful, but when you combine the four with the other benefits of owning an AstroDurance Bungee studio, you're embarking on an even more spectacular undertaking. We know that we have a viable concept of providing impeccable service in times of high demand, steady cash flow, recurring business, low startup costs, low costs, training programs excellence, package contract system, and suitable target market. It equates to success for the right, enthusiastic and qualified people.
AstroDurance, LLC is here to help you focus on the four basics by offering a great product, training workshops, bungee certification, and mentoring programs to ensure all the tools are available so you can succeed in your AstroDurance Bungee business. Astro Durance has an amazingly workable concept that quickly achieves excellent results.
What's included in our workshop training:
Forms and Documents
AD manual volume 2
Assessing your client
Equipment
Understanding the anatomy
Install hanger and hooking up
Product knowledge
Setting up your bungee arena
How to create profit gain
Supplements / Nutrition
Certification
Results and Expectations
Learning basic, intermediate and advanced training
Learning partner and group training
How to train a client with physical limitations
How to set up a class.
Do's and Don'ts of bungee fitness
Safety
Emergency protocols
What to wear for AD Bungee Workshop Certification?
Wear yoga pants. Please no shorts, we want you to be comfortable you will be in a harness most of the day.
Wear a t-shirt or tank top include a good sports bra for underneath your shirt.
Bring a hair tie to pull hair back
Bring a hand towel
Good pair of workout shoes
No jewelry but wedding ring and watch are fine
Bring your phone if you would like to capture your own footage on film.
Official Workshops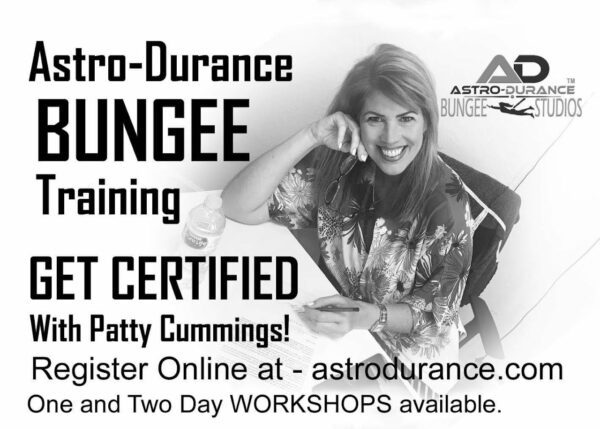 Brand Ambassador's Workshops
Affiliate Workshops
No refunds or returns will be given. If you are unable to make the current training event we will allow you to use this purchase within one year. Dates in which we have spots available can be provided. Please email us info@astrodurance.com