THE ORIGINAL BUNGEE FITNESS FROM THE INVENTOR
Astro-Durance Experience Bungee Fitness
Now Franchising In Florida
Astro-Durance Is an Anti-gravity, low-impact bungee fitness program that is for all shapes and sizes. From athletes to individuals with physical limitations, autoimmune diseases, and weight loss.
Cardio
Strength training
Coordination
Balance
Extreme fat burn
Core development
Improve flexibility
Increase stamina
Fascia stretch
Lymph movement
Increase blood flow and oxygen flow
Muscle stretch
Endorphins signaled
Full body-work out
The original name in bungee fitness! We are more than a studio, we are a quality Bungee Workout Equipment manufacturer. We don't just help you attain your fitness goals but build the equipment you depend on for bungee fitness.
Beginners Bungee Workout
Intermediate Bungee Workout
Private One-on-one Training
Advanced Bungee Workout
Seniors Bungee Workout
Partner Training
We also offer private bungee training, either one-on-one or with a partner. Tailored to all levels of fitness and abilities. You can click here to find a location near you. Regular classes can be booked online, call for one on one and partner bungee training.
Astro-Durance Bungee Workouts are fun for the whole family. Everyone can join in. Our expert term is here to help make fitness accessible to everyone. If you don't think you can do it just give us a call you may be surprised. Bungee Fitness brings cardio, aerobics, & fat-burning to the next level. Boost endurance, muscle tone, & flexibility with a Bungee Workout! Don't settle for anything less than a workout that will make you fly and feel alive!
Blast Off With New Opportunities
Bungee Fitness Franchising
Looking For A Workout?
Anyone can reap the benefits of high-endurance, muscle-toning cardio. Increase strength, improve flexibility and maximize fat burning! WITH NO PRESSURE ON YOUR JOINTS! Experience a true aerial workout.

All of our bungee studios offer a full range of anti-gravity bungee workouts. Individual and group lessons are available! Classes are beginner, intermediate and advanced. As well as high-intensity bungee workouts – all low impact!

Astro-Durance offers motion-based, low-impact, elastic-supported resistance training. Our bungee fitness programs are perfect if your health concerns have plagued other programs. Bungee fitness allows you to have the buoyancy to perform exercises that previously required support.

Everyone can enjoy a bungee workout without stress and pain. Bungee fitness is great for everyone. From athletes to retirees, Astro-Durance has designed the most effective workouts for everyone!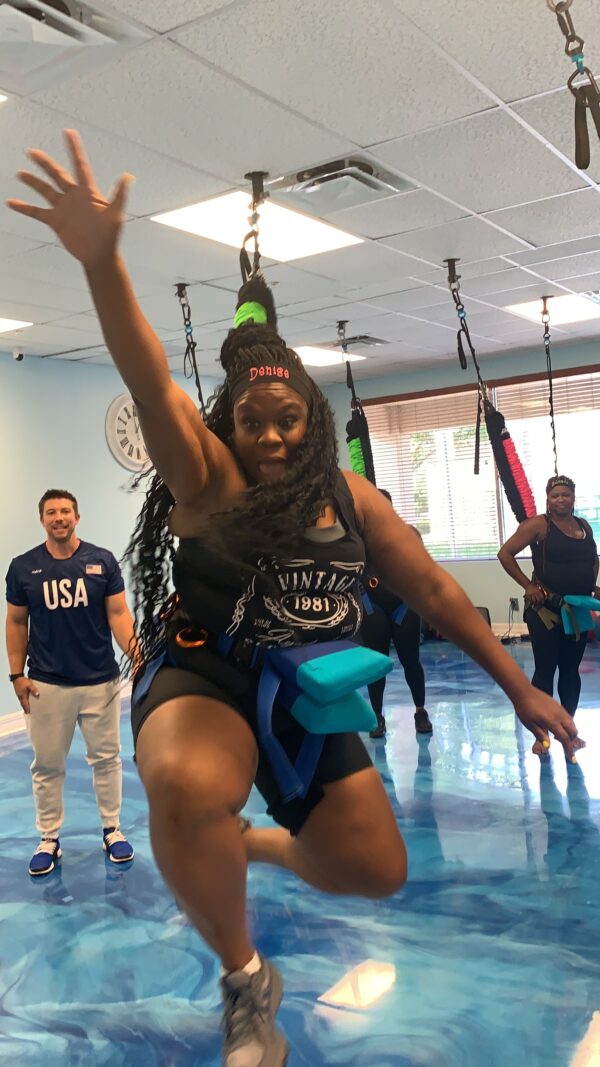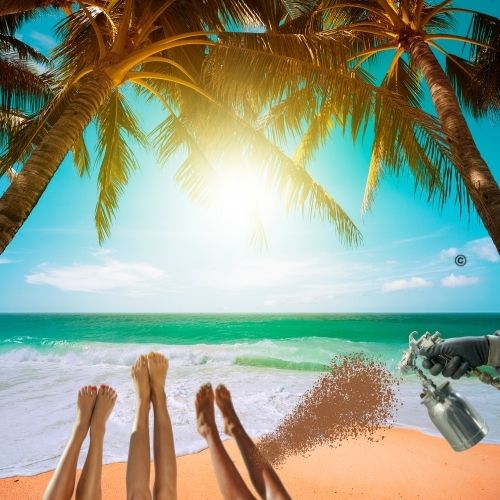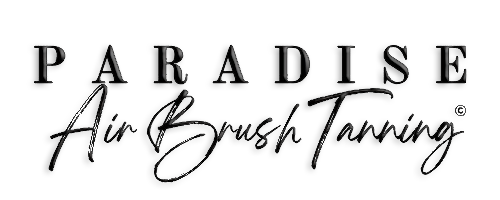 Sunkissed To Perfection
Our skin-refining blend with special skin rebuilding activities and botanical complexion perfecters.
Medium level bronzer, medium moisture level; an excellent product for sun-damaged or aged skin types. May be used on all skin types, as ingredients will plump and enhance the skin making it look smoother, fresher, and "younger". Can help smooth and soften cellulite dimples, and blur skin imperfections with continued use. Less prone to discolor imperfect skin areas.
* Available at select locations
ASTRO-DURANCE Bungee exercise is safe and fun for all ages, sizes, and for those with many types of physical limitations.
Patty Cummings (Bungee Fitness Inventor)
Bungee Fitness Brings Fitness To Everyone
Even for the fitness-minded and professional athletics. If you are recovering from sports injuries and surgical procedures. One of the biggest challenges in Physical therapy is to help the person exercise without stressing the body further – now there is a way! Or just looking for a new twist on old workouts. Everyone loves the aerobic, cardio, and aerial fitness experience.
Astro-Durance Bungee "Motion-Based Exercise" helps muscles stretch and contract without pain. It gets the lymphatic system moving efficiently and blood pumping throughout the body. Flowing to the brain where it can oxygenate brain cells and build chemicals that enhance brain function.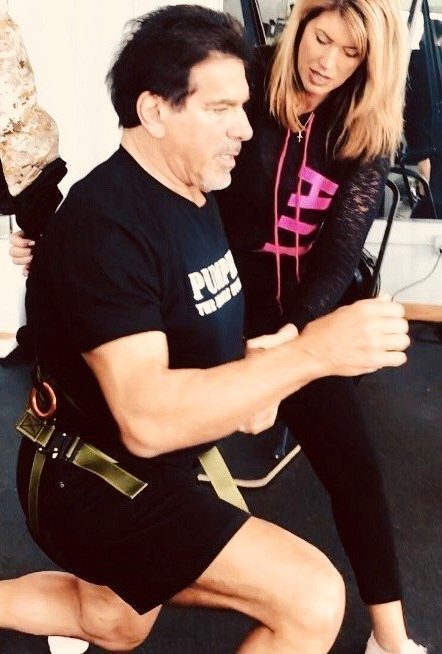 Hot Off The Press
There is no weight limit with AD Bungee Systems it has been designed to train to the untrainable. We have had up to 580 pounds on AD Bungee Systems. Our bungee workout equipment has been seen on tv with 1000 LBS Best Friends on TLC.
Check out the blog post here:
1000 lbs Best Friends using Astro-Durance Bungee Systems.
Find A Location Near You! Experience the aerobic, cardio aerial fitness call!
Low Impact High Endurance Experience
Flexibility and Balance are important to performance. In all sports, dance, and in general day-to-day activities. Balance is what gets you from point A to point B, without falling over or bumping into things.
Whether you are a runner, football player, or violinist, you will find flexibility and balance is the key to performing at your best. Recovering from surgery or a long season of bed rest. The best way to recover flexibility and balance is through a bungee workout.
Take your fitness to new heights with this fun, innovative approach to group exercise. Bungee fitness combines a cardiovascular and aerobic workout with resistance training. The use of bungees adds resistance and increases cardio with a lower impact on joints.
Astro-Durance is the original bungee fitness brand. With years of experience, we have created fitness for all. Our workouts help people who suffer from Arthritis, Muscular Sclerosis, Cerebral Palsy, and Parkinson's. As well as those recovering from sports injuries and surgical procedures.
No matter the situation, balance requires the exercise of just the right amount of flexibility and agility at the right time and from the right areas of the body in order for us to execute the desired task, recover and then be able to repeat the same or similar tasks without injury.
With balance training, as with most training, the idea is to recreate and manipulate in a controlled environment what we do in an event or game situation. This can be basic day-to-day living accomplishments or professional sports maneuvers.
It doesn't matter your age, your shape, size, or fitness level, our fitness principles work the same on all body types! It is what Astro-Durance calls a 'bio predictable workout system' designed to complement the way our body works.
Group Classes Are Fun For Everyone!
Whether you are choosing to join a DANCE GROUP CLASS or a BASIC EXERCISE GROUP CLASS. You will enjoy the ease of exercising while you are having fun! Astro-Durance Studios even have their own exercise music, composed for our bungee workout movements.
The main focus of every Astro-Durance Bungee Studio is on helping their clients achieve their personal fitness goals. Giving each the attention and expertise they are seeking. AD Certified Trainers go the extra mile giving each their professional best!
Our Certified Trainers Keep fitness goals realistic and listen to what each client says their exercise needs and wants are and then plan a workable approach to achieve that goal together.
It doesn't matter how old or young you are, nor your shape, size, or fitness level, Astro-Durance Bungee Studio fitness principles work the same on all body types! It is what Astro-Durance calls a 'bio predictable workout system' designed to complement the way our body works.