Your clients will have loads of fun while getting an amazing workout! ASTRO-DURANCE® fitness product group provides the products your gym, studio and rehab center has been seeking to provide your clients the workout they dreamed of.
You provide your clients the bungee system designed for their weight class with our safe, secure and comfortable harness. Using our ASTRO-DURANCE® pretested workouts, or ones you as their trainer create, you can now provide weightless training that puts NO STRESS ON THEIR JOINTS! You will be an Astro-Hero as you provide your clients weightless training that helps to increase muscle tone, strengthen core muscles and improve flexibility and balance.
ASTRO-DURANCE® Bungee Training has developed a phenomenal workout program that offers an extremely high cardio and revs metabolism to start burning fat immediately without putting stress on joints. Top athletes and fitness trainers have been astounded at the rapid rate of cardio in their first minute thanks to the advanced ASTRO-DURANCE® Training Program.
Be the first in your area to bring your clientele the workout system that makes them feel super human! They can fly in the air, skip, and jump and do movements they never thought they could. They have a lot of fun and return over and over. Clients that once thought they were too old to move like they used to will feel their bodies go back in time thanks to your ASTRO-DURANCE®.
Rehabilitation professionals love ASTRO-DURANCE®! People with arthritis and physical restrictions have been amazed at how easy it is to perform exercise movements that were impossible for them before they tried Astro-Durance® motion based training. The ASTRO-DURANCE® Bungee System is bio friendly for those recovering from sports injuries or post-operative hip or knee replacement surgeries.
Check out our videos and invest in ASTRO-DURANCE® and provide your clients the ONLY Bungee fitness product that is Made in the USA!
With every order you, as our client, will be assigned an Astro-Hero representative that will contact you to be sure all of your needs have been considered and met. We are happy to provide your Astro-Hero rep who will be your point of contact throughout the entire process from purchase, through installation, right to the start of your training sessions.
Get Your Bungee On!
Astro Bungee Specifics
ASTRO-BUNGEE 4 in 1 Systems have been custom designed to meet resistance training needs for any size person, and to offer a variety of high-end resistance workout options all in one unit providing 140 to 400 pounds of resistance weight – meeting the weight resistance requirements for clients ranging in weight from 75 to 400 pounds and offering them the durability and support they need with safety and comfort.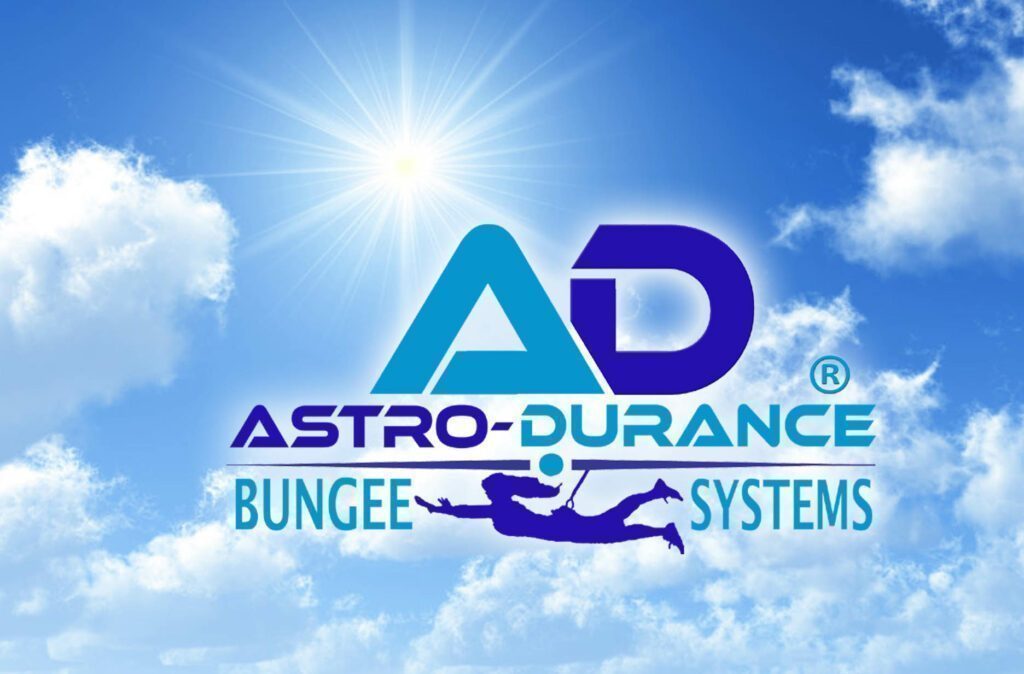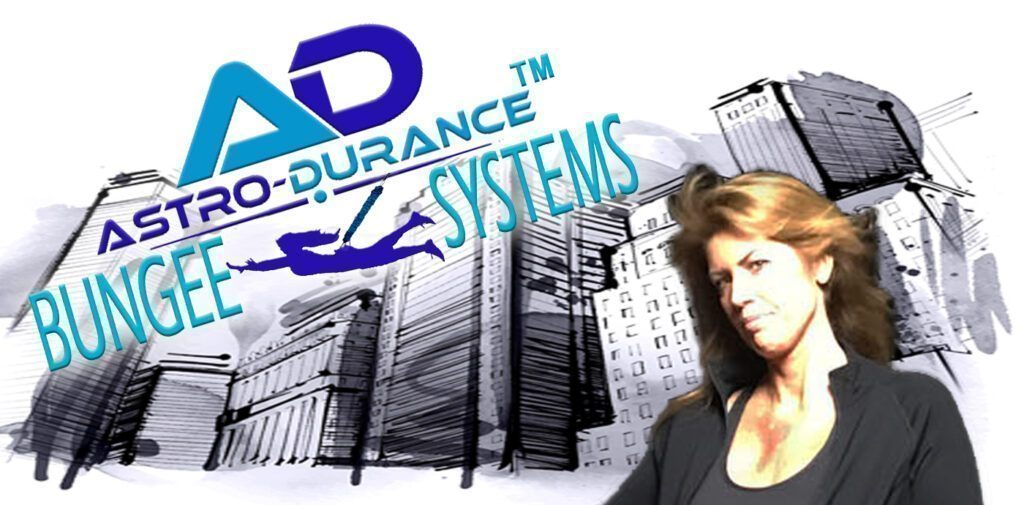 ASTRO-DURANCE® Bungee Training Systems are a breakthrough in fitness
A concept whose time has come. Our bungee systems are affordable for consumers and lucrative for any business owner.  We help you by providing ASTRO-DURANCE® Bungees and you can now have a Total Body Bungee Arena!
In a 30-minute Astro Bungee session our high cardio motion based workouts can help your trainee burn up to 1200 calories while adding no stress to their joints! Imagine how many 30-minute sessions you can provide in one day, multiplied by however many bungees you can fit in your fitness or rehab space.
The ASTRO-DURANCE® Bungee Training System is studio proven and with a similar class structure can bring full return on investment in only three months! ASTRO-DURANCE® Bungee Systems can be added one station at a time or by the dozen. Our product is a studio tested and proven system. Even in a moderately sized 2,000 square foot studio it is possible to install 12 or more ASTRO-DURANCE® Bungee Centers.
As other fitness centers have discovered Astro Bungee Systems are affordable even for the individual personal trainer to start their own business! Our Astro Hero Team will help you create the perfect start up package for your budget. Financing right through our website is available within hours of applying for those who prefer to take that step.
Our first class customer service provided by our Astro Hero Team will assist you from your first question, to beyond installation and your first training session. From that point your customers will begin to rave about how much fun they are having getting fit.
As has happened with our first installations at P2 Personal Training in Cape Coral, Florida client excitement has expanded their client base beyond their wildest dreams in only 6 to 8 months. Just look at the client excitement, comment and sharing on P2PT's Facebook Page. We can even guide you in marketing and promotional techniques used by P2PT to put your fitness center over the top in your community just as it has in ours.